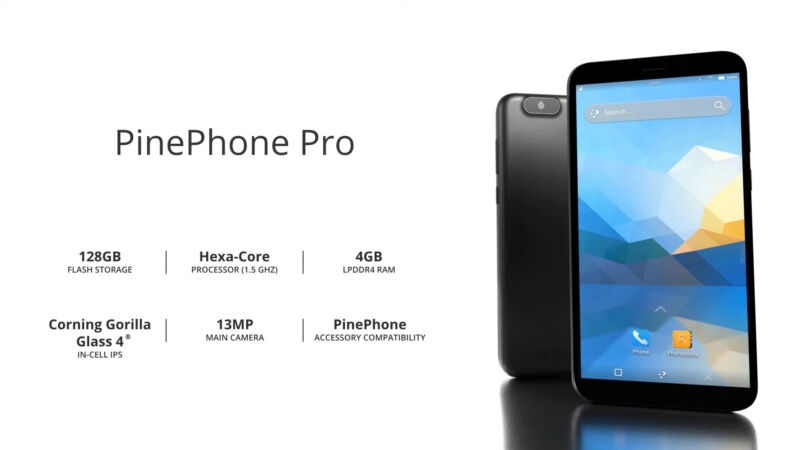 Pine64 is launching a major hardware upgrade in its quest to build a Linux smartphone. After the launch of the original PinePhone in 2019, the organization is now taking preorders for the PinePhone Pro, a new smartphone it's calling "the fastest mainline Linux smartphone on the market." The phone was announced in October, and you can now secure a unit. The MSRP is $599, but it's up for preorder now at an introductory price of $399.
Since Pine64 wants to make an open source Linux smartphone, its choice of hardware components is limited. Most big chip companies like Qualcomm or Samsung don't want to share open drivers or schematics, and you saw that with the original PinePhone, which was based on a 40 nm Cortex A53 SoC made by Allwinner. The PinePhone Pro is upgrading things with a Rockchip RK3399 SoC. The chip sports two Cortex A72 CPUs and four Cortex A53 CPUs, and Pine64 says it worked with Rockchip to get the chip "binned and voltage locked for optimal performance with sustainable power and thermal limits." Pine64 doesn't cite a process node, but other companies list the RK3399 at 28 nm. If that's true and you're looking for something roughly comparable in Qualcomm's lineup, the Snapdragon 618/650 (a mid-range chip from 2016) would seem to fit the bill.
The phone has a 6-inch, 1440×720 LCD, 4GB of RAM, 128GB of eMMC storage, and a 3,000 mAh battery. There's a USB-C port with 15 W charging, a headphone jack, a 13MP main camera, and an 8MP front camera. The back cover pops off, and inside the phone, you'll find a removable battery (whoa!), a microSD slot, pogo pins, and a series of privacy DIP switches that let you kill the modem, Wi-Fi/Bluetooth, microphone, rear camera, front camera, and headphones.
Powered by WPeMatico